Yogurt Bursting Boba
Bossen Yogurt Bursting Boba is back with an even better and refreshing taste!  

Add the sweet, tart, and fresh taste of yogurt to your bubble teas and desserts with our Bursting Boba.
Each translucent boba ball is filled with rich yogurt flavor and a scrumptious texture, bringing the taste of a laid-back snack time to your froyo, snow ice, or iced tea.
* Delicious & Fun

* No-Fuss Preparation

* No Cooking Required
Each tub contains approximately 100 servings. The suggested serving size is 30 - 40 bobas (20 - 25 g or 0.7 - 0.9 oz)
Shelf Life: 18 months. 
Net Weight: 7.04 lbs per tub, 29.04 lbs per case
Country of Origin: Taiwan
Other gourmet flavors of Bursting Boba:
Blueberry | Cherry | Green Apple | Honey | Kiwi | Lychee | Mango | Orange | Passion Fruit | Peach | Pomegranate | Strawberry


Ingredients:
WATER, FRUCTOSE, STARCH ACETATE, CALCIUM LACTATE, CITRIC ACID, SODIUM ALGINATE, XANTHAN GUM, YOGURT FLAVOR, MALIC ACID, CALCIUM CHLORIDE, POTASSIUM SORBATE(BELOW 0.03%), TITANIUM DIOXIDE, SUCRALOSE, CMC(CARBOXYMETHYL CELLULOSE).
Storage & Care:
- Must refrigerate after opening.
- It is HIGHLY recommended to consume within 1 week after opening.
- Avoid excessive heat or moisture.
- Avoid constant exposure to light.
- Expiration date as marked on the package.
*Bursting bobas are not manufactured on shared equipment or facility. 
You Might Also Like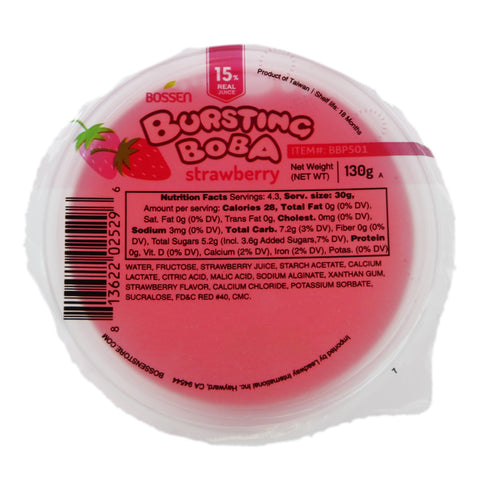 Ingredients:  
2 oz flavored syrup
7 oz sugar-free tea
7 oz ice
fructose to taste
Bursting Boba
Instructions:
Add flavored syrup and tea into a 16 oz shaker.

Add fructose to taste if desired.

Add ice until full.

Shake well.

Add in your bursting popping boba and enjoy!