Dragon Fruit Bursting Boba
Dragon Fruit Bursting Boba
The newest flavor Dragon Fruit Bursting Boba! It has the signature magenta color of dragon fruit and is a pop of color to every drink or dessert.

Sweet and fruity, Dragon Fruit Bursting Boba makes a perfect addition to frozen yogurt or cocktails. 


Biting through the bouncy membrane would give you a strong, refreshing "bursting" feel in the mouth!


Real fruit inside 


Delicious & Fun


No-Fuss Preparation


Cholesterol & Fat Free


Low in Calorie and Sodium


Other gourmet flavors of Bursting Boba flavors you might like. 
Blueberry | Green Apple | Kiwi | Lychee | Mango | Passion Fruit | Peach | Pomegranate | Strawberry 




Ingredients: WATER, FRUCTOSE, DRAGON FRUIT PUREE 10%, STARCH ACETATE, CALCIUM LACTATE, MALIC ACID, CITRIC ACID, SODIUM ALGINATE, XANTHAN GUM, CALCIUM CHLORIDE, POTASSIUM SORBATE(BELOW 0.03%), FD&C RED #40, CMC(CARBOXYMETHYL CELLULOSE).

Storage & Care: Must refrigerate after opening. It is HIGHLY recommended to consume within 1 week after opening.

Shelf Life: 18 months.
- Avoid excessive heat or moisture.
- Avoid constant exposure to light.
- Expiration date as marked on the package.

Country of Origin: Taiwan

Net Weight: 7.04 lbs. per tub, 29.04 lbs. per case


You Might Also Like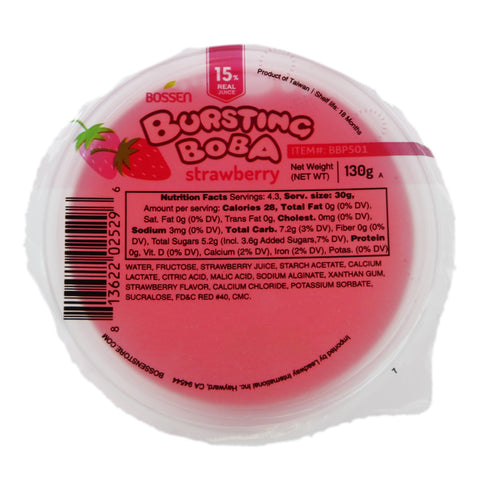 Suggested Serving Size: 30 - 40 bobas (20 - 25 g or 0.7 - 0.9 oz.)
Each tub can create approximately 100 servings.

Can be put into any drinks as a topping. Best served with cold treats such as frozen yogurt or ice cream. Can be used as a drink chaser or other dessert topping.
*Bursting bobas are not manufactured on shared equipment or facility.